Today I will try 'to write a review in English on the Banshee
We will compare the two Gunpla Banshee Banshee OVA version and Ka Edition.The models are basically the same weapons are differences in the endowment and the color of the inner frame.From here on there will be SPOILER so WARNING!That said subtito begin with the difference more evident that NT-D sistem.In the OVA version of this and 'yellow / orange as the version and Ka' blue.
Why '?
Initially, on the Unicorn Gundam NT-D mode activation takes place in an "unconscious", especially in response to strong emotions of anger and / or fear of Banagher, and then only in the presence of a newtype enemy. When this occurs, the luminescence of the psycho frame is red, and the models that have inner rrame of this color reproducing the mobile suit in this phase (for the anime involves epsiodi 1-4 and the first part of 5).Over time, the guy at the controls of MS is temperamentally mature from the point of view of newtype powers, and this allows the switch to NT-D with a simple act of will: his mind is able to synchronize perfectly with the psycho frame, the whose luminescence is so green (ANIME VERSION this one has for the first time in episode 5 was released in Japan a couple of weeks ago, the corresponding event of the novel is described in volume 7).
The Full Armor equipment is mounted in Volume 9 of the novel (sull'anime you should see in episode 6, announced for spring 2013): at this stage of affairs, Banagher are in full control of the mode change, and then the psycho frame remains green.
As for the Banshee, its first pilot (Marida Cruz, aka Ple Twelve) is certainly more experienced than it was Banagher early in the story, and though they are under the command of MS black after suffering a mental reconditioning, the girl can switch to NT-D to your liking.Therefore, the Unicorn 02, whose operating system is slightly different from the Unicorn, never has a "red phase" luminescence "normal" frame of his psycho is always yellow / orange.Thereafter, the commands of the Banshee are taken from Riddhe Marcenas, but the psycho frame remains yellow … only in the final battle (the last two volumes of the novel) the devices of the two RX-0 resonate, and also the Banshee has the psyco frame her beautiful green.The model reproduces precisely the Banshee Ver.Ka of MS at this stage of history (which is not known if and how it will be transposed in the OVA version)Weapons found in both versions:
■ 60mm Vulcan GunHoused in the head on the OVA version. Hobby Japan lists it as a beam vulcan gun, though standard live rounds Also can be used.
■ Beam MagnumA highly customized beam rifle designed with an energy condenser, mirroring the output of large mega-particle cannon. Normally, It functions like an ordinary beam rifle, but utilizes a special E-cap magazine mechanism to produce mega-particle cannon yield at the expense of an Entire E-cap battery. The Unicorn Banshee can be outfitted with up to 10 spare customized E-Pacs on the back of the ITS skirt
.■ Beam Saber / Beam TonfaEach forearm stores a beam saber. In Destroy Mode, two beam sabers additional deployment from the backpack in a design Reminiscent of the RX-78 Gundam.
■ Beam Vulcan GunHoused Within The shoulder assembly, operable only in Destroy mode. Hobby Japan lists as this weapon beam vulcan gun, although the standard projectile ammunition is primarily used.
■ ShieldHouses an I-field barrier generator, usable in Both Unicorn and Destroy modes.
A weapon featured only on the OVA version
■ Armed Armor VNA weapon featured only on the OVA version, it is fixed on the left arm. The Armed Armor is a VN-embedded Psycoframe destructive vise-like super-weapon That Utilized Effectively vibration to destroy mobile suits. In Destroy mode the weapon transforms into a shape similar to a beast's claw. It is treated analysis with beam-resistant coating and can be used as a shield Also striking weapon or when in Unicorn mode.
■ Armed Armor BSA weapon only featured in the OVA version, it is equipped on the right arm. A Psycoframe-embedded long-range beam smart gun, it is capable of extremely accurate firing, Achieved by a special built-in sensor unit Transmitting spatial data to the pilot via psycommu system and using the pilot's reaction to synchronize the beam-directing "fins ". The weapon can be used in Unicorn and Destroy Both modes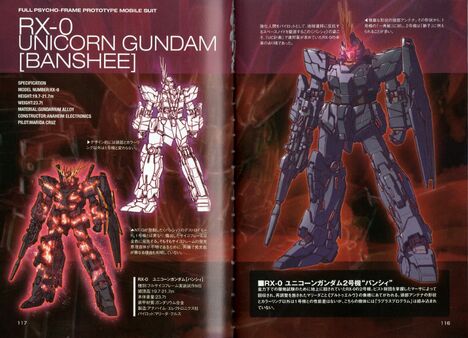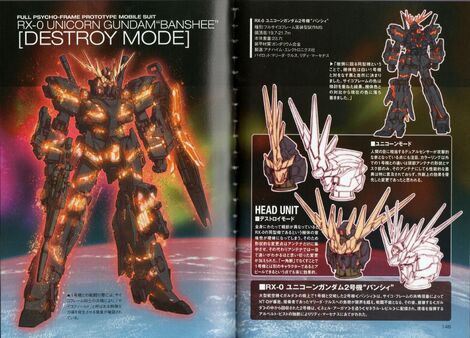 Facts about RX-0 Unicorn Gundam 02 "Banshee"
Armor

Gundarium Alloy
Era
Universal Century
First Seen
96
Height
1,970 cm (19.7 m, 775.591 in, 64.633 ft) , and 2,170 cm (21.7 m, 854.331 in, 71.194 ft)
Manufacturer
Anaheim Electronics
Max Weight
46.7 tonne
Model Number
RX-0
Official Name
Unicorn Gundam 02 "Banshee"
Operator
Vist Foundation , and Londo Bell
This property is a special property in this wiki.
Mobile Weapon
Parent

RX-0 Unicorn Gundam (Descendant)

| | |
| --- | --- |
| Pilot | Marida Cruz , and Riddhe Marcenas |
| Pilottemp | Marida Cruz , and Riddhe Marcenas |
| Powerplant Type | Minovsky Ultracompact Fusion Reactor |
| Production Type | Prototype |
| Sensor Range | 22,000 m (72,178.478 ft) |
| Series | Mobile Suit Gundam Unicorn |
| Unit Type | Suit |
| Usage | Full-Psyco-Frame |
| Weight | 23.7 tonne , and 24 tonne |

UNICORN MODE OAV VERSION

DESTROY MODE OAV VERSION
Unicorn Banshee novel Version
Unit type: full psycoframe prototype mobile suit
Head height: 19.7 meters (21.7 meters with horn)
Weight: 23.7 metric tons
Power generator output: 3480 kW
Maximum thrust: 142600 kg
Sensor radius: 22000 meters
Armor: gundarium alloy
Equipment: NT-D (Newtype Destroyer) system
Armament: beam magnum x 1, shield (mounts I-field generator) x 1, beam saber (2 usable only in Destroy mode) x 4, 60mm vulcan gun x 2, beam vulcan gun (usable only in Destroy mode) x 2
Pilot(s): Marida Cruz (aka Ple 12), Riddhe Marcenas
Mechanical designer: Hajime Katoki
BANSHEE OAV VERSION
BANSHEE KA EDITION
THANKS BILBROS GUY and GIC ,(GUNDAM ITALIAN CLUB) :-)Grazie Ragazzi !!!!
P.s. L'italiano non e' stato mai il mio forte son piu' portato per i conti ed i calcoli matematici :-).
Per l' inglese e' la stessa cosa, pero' ho deciso di cominciare a scrivere alcune recensioni in inglese aiutandomi con i vari traduttori, trasformare una passione in una nuova oppurtunita', quindi chiedo scusa in anticipo per le fesserie e gli errori che troverete!!!